Today, it is my pleasure to introduce you to the newest member of the Christian Shelf-Esteem team. If you've followed my reviews for any length of time, chances are you've seen her around. She's been my sous chef for cookbook reviews and a creative consultant for the blog's #bookstagram posts. Stepping out from behind the camera to contribute her first independent book review is my daughter, Taylor.
Taylor reading the opening scene of A Horse for Kate.
About the Book
A Horse For Kate
by Miralee Ferrell
A horse of her own would be awesome. But Kate figures that might be a long way away, especially since she had to give up riding lessons and move to her late g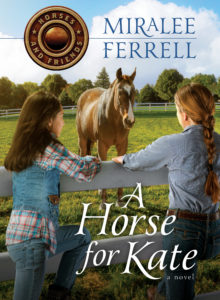 randfather's farm. Besides, it would be a lot more fun to have a best friend to ride with. When Kate discovers a barn on their new farm that's perfect for a horse and a dusty bridle too, she starts to think that her dream might come true. Then she meets Tori at school, who is totally the best. So when they discover a thoroughbred that appears to be all alone, could it be the answer to her prayers? Maybe. If she can convince her dad … and figure out what's going on with that horse.

When I was a girl, books were my refuge—an unending source of joy, adventure, and discovery. Because I've always delighted in reading, I wanted to raise my children to be readers. As I step back and look at them both, I can't help but grin and think to myself… Mission Accomplished!
Thank you, readers, for taking the time to watch Taylor's BookTube review. Feel free to leave words of encouragement or constructive feedback in the comments below. You may also give her a 👍 on YouTube.
Taylor, mommy is so proud of you! 😘